J2F Guest Ranch is located in Norwood, Colorado on Wright's Mesa in the southwestern foothills of the Colorado Rockies. Secluded on 380 acres bordered by Public Lands, J2F Guest Ranch is just 4 miles from Norwood and 37 miles from Telluride.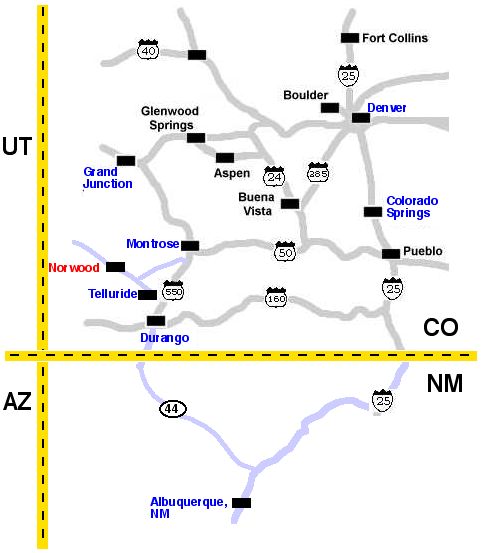 There are several airports serving this area. The larger, commercial airports (Albuquerque, Denver, or Colorado Springs) typically have more frequent flights at a lower cost. Those airports are all approximately a 5-7 hour drive from Norwood, a good way to see this beautiful part of the country.
Airports that are closer to J2F Guest Ranch are the smaller, local airports in Telluride (a 40 minute drive) and Montrose (a 1.5 hour drive). Grand Junction and Durango have slightly larger airports and each is approximately a 2-3 hour drive from Norwood.
We would be happy to provide you with information regarding air or other transportion to help make your trip to the J2F Guest Ranch as pleasant as your stay here!


J2F Guest Ranch
P.O. Box 996
Norwood, CO 81423
Phone: (970)327-0242
j2f@j2f.com